A good DEED to FEED the hungry
& homeless furry buddies
Anjali Kakati is founder of Each One Feed One, a charity in New Delhi which feeds homeless street dogs and engages in other activities for the welfare of our four-legged friends. Each One Feed One provides food for more than 120 stray dogs every day. Anjali talks about her noble act of helping the hungry & homeless furry buddies.


When did you start feeding/welfare activities you undertake?
We adopted our first dog Sweetie in December 2004. Sweetie is an Indie dog adopted from the street of Malviya Nagar in New Delhi. Since then, I started empathising more on dogs living a hard life on streets and started searching ways in which I could ease their pain and hunger and make their lives slightly better. It is how I started feeding my colony dogs beginning 2006. It started with a few dogs near my home and few near ITT Tower at Nehru Place where I did my first job and few near Siri Fort Sports Complex where I used to go for jogging and exercise. Gradually expanding for few more and then few more, as on today we feed around 120+ dogs every single day.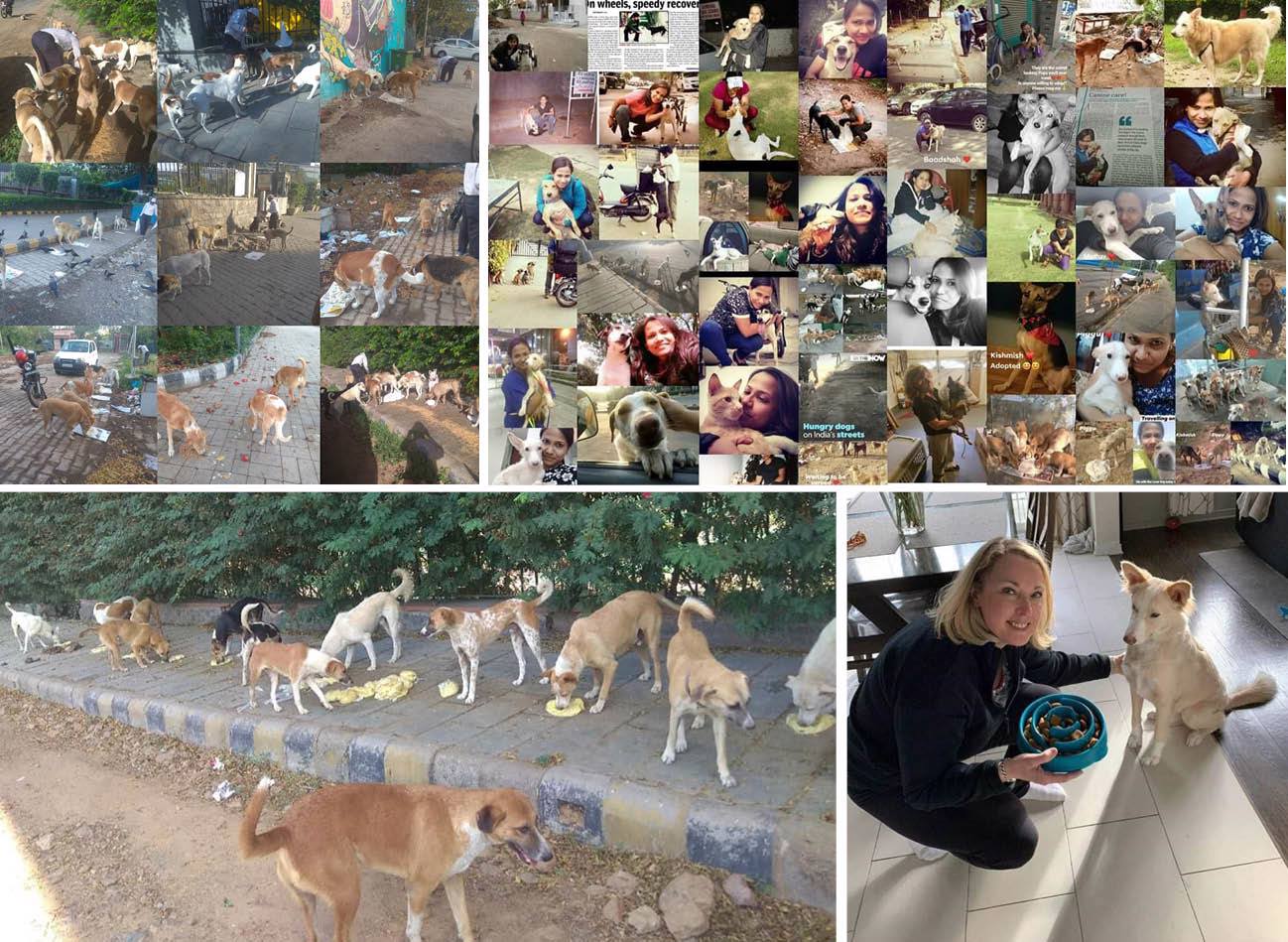 What is your passion in this?
I wanted to make a positive difference in the sad lives that the street dogs lead. I wanted to uplift their lives in whatever small capacity that I could. I had started with just feeding dogs. But then taking care of their medical needs is a natural expansion of the dogs under our care. And since last year, we have started re-homing some of our dogs in partnership with Kannan Animal Shelter. Eight of our dogs have got re-homed to wonderful homes in the US and Canada. I guess this is my passion. To heal others! To try and turn around their lives positively! Giving the street born dogs a beautiful healthy and loving life ahead. We as human beings have our utmost duty to try help the less fortunate beings on the earth. I am trying to do just that.

What would you advice people to do so?
The guiding principle of my charity is Each One Feed One. Each one of us, let's feed and take care of at least one street animal every day. Imagine then how many lives will get uplifted. I will advise people to start small, limit the number of animals you take care. But please take care of their end to end needs. One dog on the street, apart from food, he will need vaccination, de-worming and other medical needs when the case arises. It is always better to limit yourself to the number of animals you can tend to sincerely and then give quality care.

Do you do it yourself or do you have people helping you?
When I started feeding I was doing it all by myself. But charity along with a full time corporate job is difficult. At present I have a feeder cum driver who has been working with us for the last three years. He loads the food in a delivery bike I had purchased few years back and goes to feed our 110-120 dogs in the morning covering around 14 feeding points. It takes him roughly around two and a half hours for feeding the entire set of dogs. In the evening we have another feeder who feeds our colony dogs and few others nearby. We had a cook for cooking food all these years. But as of last month, we have outsourced our cooking to MC Food Services who cooks, packs and delivers 154 food packets to us every day for distribution. Outsourcing the cooking has made the charity's operations more manageable and streamlined now.

Under the current COVID-19 crisis, how do you manage your feeding activities?
Under the COVID-19 crisis too we have never missed a single day of feeding. Mrs Ambika Shukla and Mrs Maneka Gandhi's office were very kind to issue us curfew passes. That made it possible for us to go out feeding our dogs as usual. Along with feeding the dogs in the morning, we as a charity had also procured lots of dry dog food packets and handed them over with our caretakers at different feeding points of ours. To open the nearby dogs in evening as many newer dogs had started coming to our feeding points in search of food. We used to travel with 100 kg of dog food in our car and bike to hand over. We also handed over 25 kg bags of rice and eggs to a sanitation worker in Nehru Place to cook and feed some dogs who stayed near a dumpster.

What do you feed and what areas you currently cover?
Our food comprises mostly of rice and chicken, dry dog food, milk and gravy. We cover Nehru Place (around 50 plus dogs in 5 feeding points), Police Wireless (12 dogs), Gargi College Road (6 dogs), Siri Fort area (17 dogs), BHEL office (15 dogs), CR Park (22 dogs).

Anything else you would like to say?
Feeding and taking care of animals is a soul satisfying job. But there are innumerable challenges too in this journey, such as lack of resources and funds, opposition from dog haters and troublemakers, lack of support from family or others, shortage of time, etc. But over the years what I have learnt is that every challenge can be overcome with sincere effort and perseverance. We all have to keep in mind that these dogs and animals whom we take care of have no one for them except us. They are a part of our family. Just like a family who loves and protects each other, we have to love and protect them too. And in return, the unconditional love and loyalty that these dogs give you cannot be compared with anything in the world. It's priceless!
(Social media pages of Each One Feed One are: https://www.facebook.com/EachOneFeedOne/